HOW DOES THE RE3 ICE COMPRESSION PACK WORK?
The RE3 Ice Compression Pack uses cryotherapy – a technique used by professional athletes and coaches for sporting codes for decades.
When the temperature of our body's tissue is kept at around 10 degrees Celsius, there is an immediate reduction in oxygen flow, inflammation, muscle spasm and pain.
WHY COLDER IS BETTER
While common gel packs may provide some level of comfort and relief, most will not reduce the temperature of the skin to below 13 degrees. Other packs using ice cannot be attached to the body in a way that is clinically effective – the RE3 Ice Compression Pack is designed to not only hold enough energy to be clinically effective but also offer comfort and mobility. It just makes icing easy.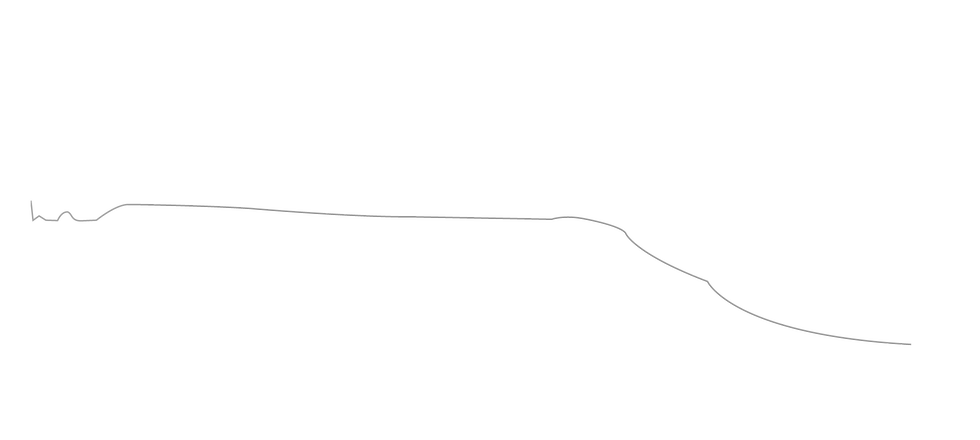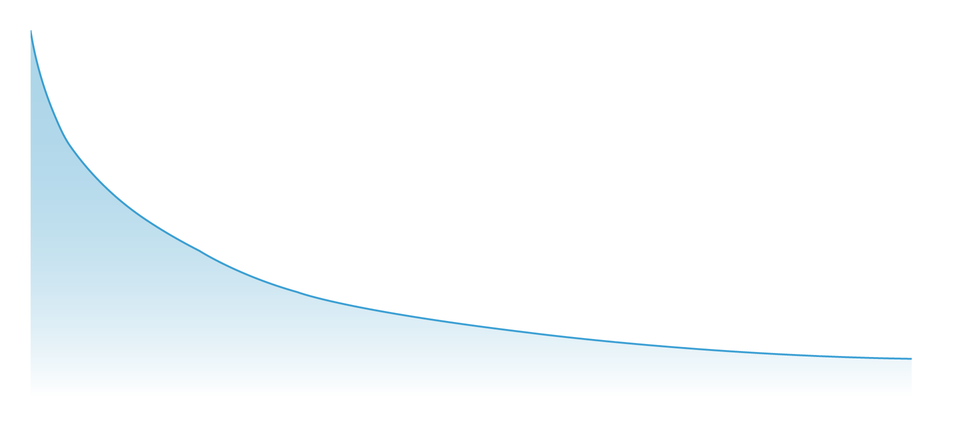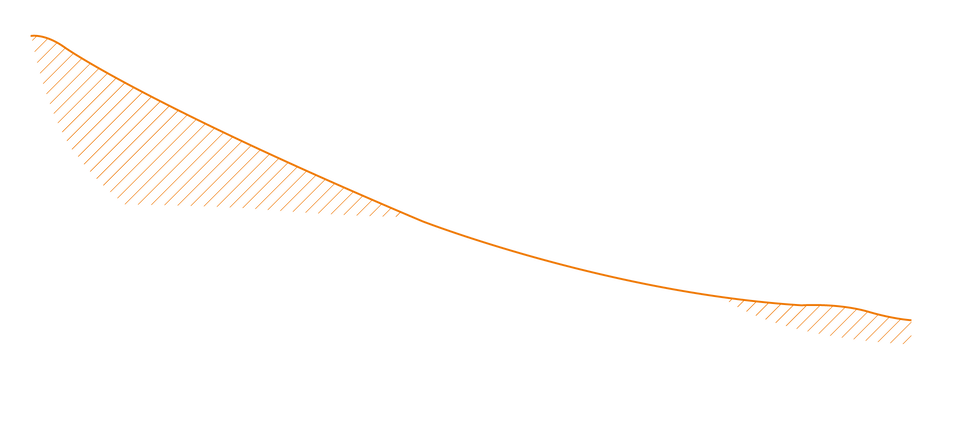 RE3 Ice Compression Pack with energy zone transfer technology

Maintains a temperature below 10˚ for over 3 hours
Home remedy: Wet ziplock bag*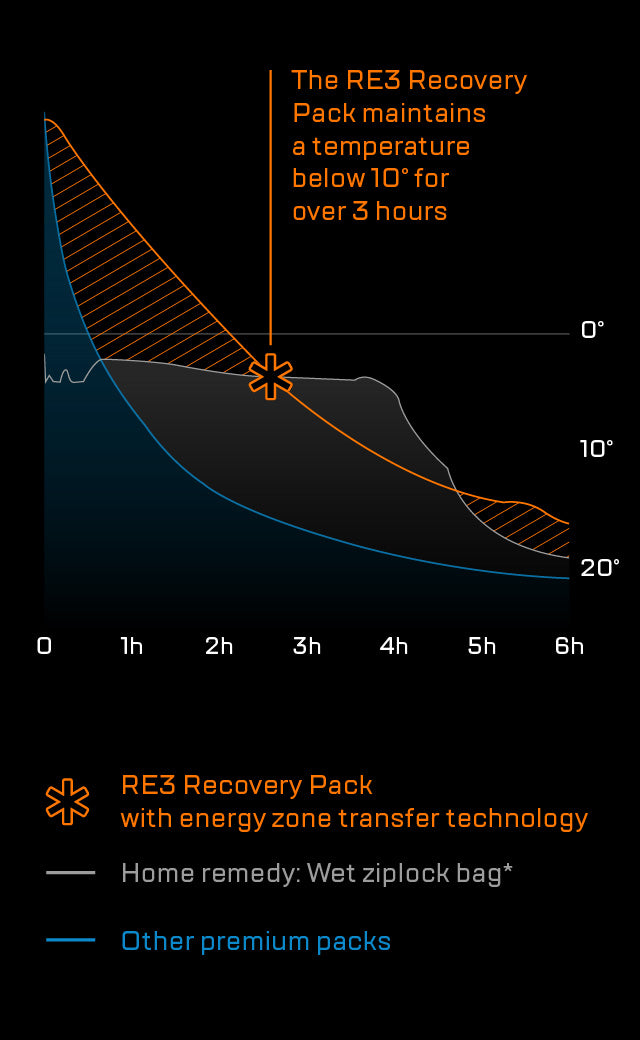 This test was conducted in a controlled chamber with an ambient temperature of 20 degrees. An external probe was placed in the middle of each sample where skin contact is most likely.
*RE3 Ice Compression Pack patent pending
The RE3 Ice Compression Pack is fully self-contained. The RE3 neoprene case ensures zero leakage. That means no dripping water and nothing to worry about except getting back in the game.
NO MESS.
NO STRESS.
JUST PURE COLD RECOVERY
START PERSPIRING IMMEDIATELY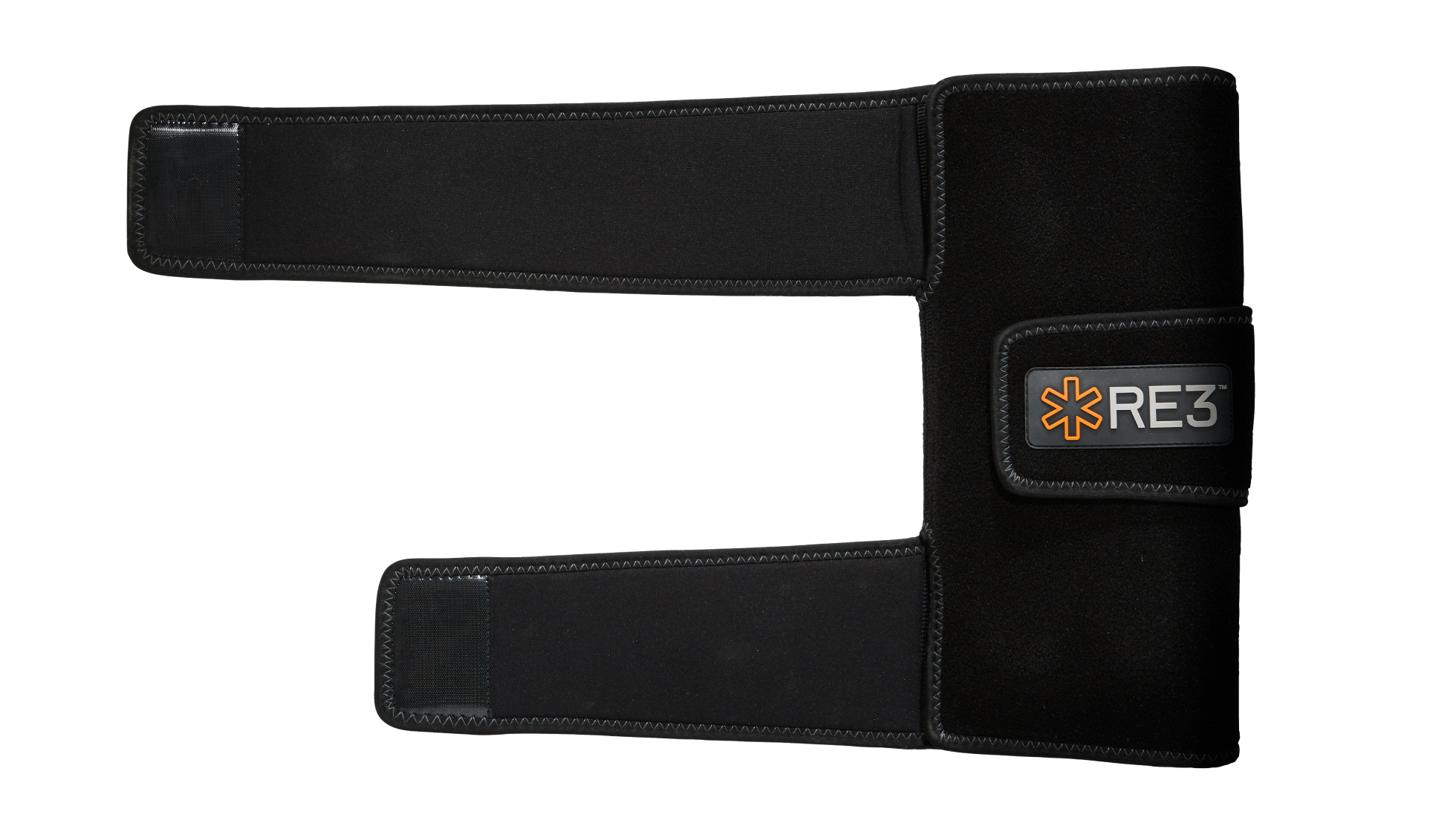 The RE3 Ice Compression Pack features its own compression brace within a flexible wrap – ready to be applied to the most common injury areas.
See the brace system >
We've made the RE3 Ice Compression Pack as user friendly as possible. Simply freeze it at home before heading to the track, training or your next big game. Because it wraps around itself, the pack will retain its clinically effective cool temperature for several hours.
No more searching for ice. No more messy plastic bags. The RE3 Ice Compression Pack is seamless, simple and stress-free.
FREEZE IT, GRAB IT, AND GO.