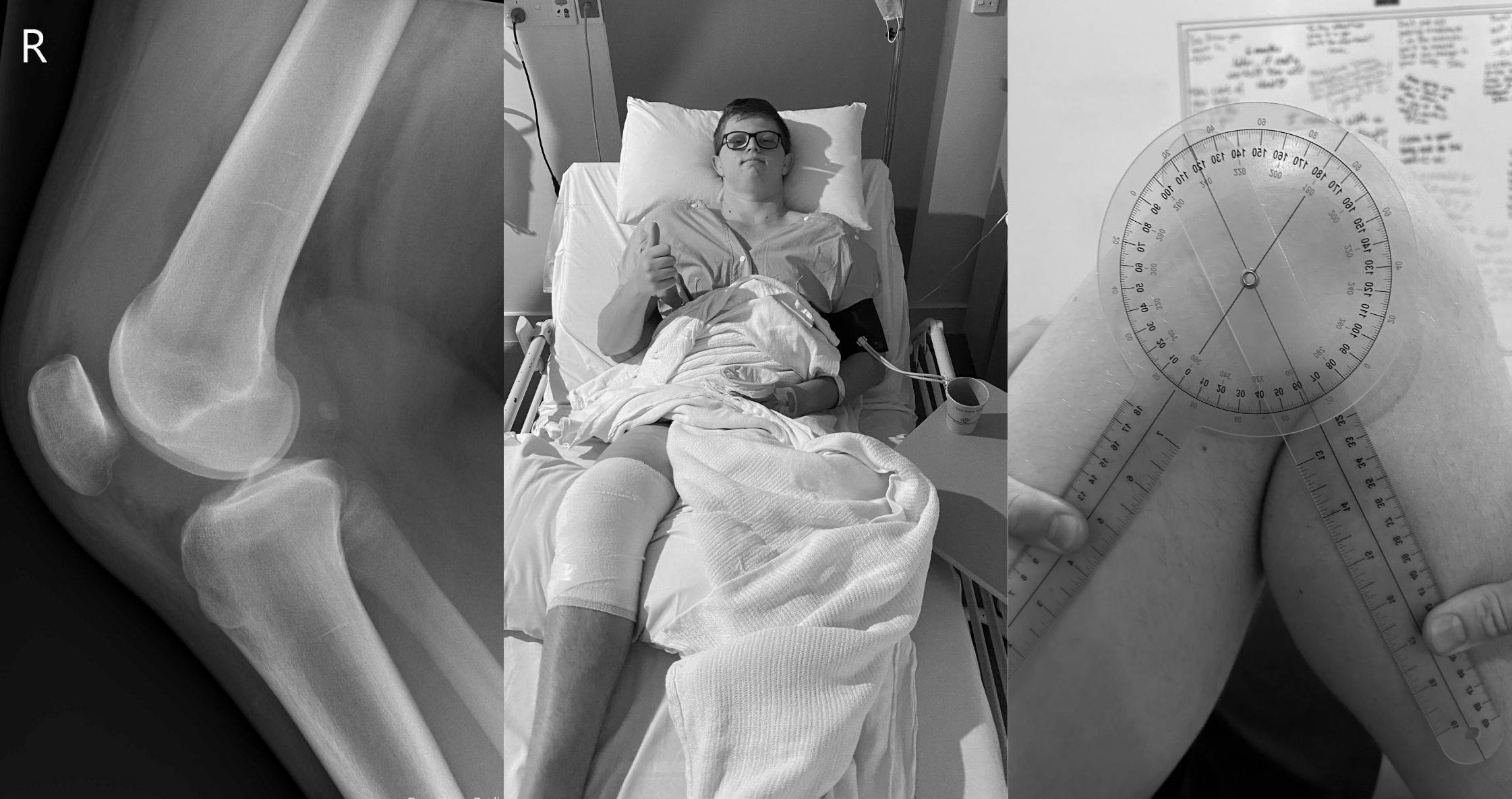 Knee surgery can be a debilitating experience that affects people of all ages and lifestyles.
This includes all type of knee surgeries: knee arthroscopy, meniscus repair, ACL, MCL reconstructions & total knee replacement.
How To Actually Reduce Pain and Accelerate Healing Post-Surgery
It is normal to be swollen and uncomfortable the first few days following your procedure.
One of the most effective ways to manage post-surgical pain is through the use of ice therapy and compression:
Intermittent Compression therapy helps to reduce swelling, control pain and improve the overall healing process. Compression garments are often supplied after a procedure and work by applying pressure to the affected area.
Compliant icing is key: frequent icing will help to reduce pain, inflammation and swelling in the knee joint. Be careful to never apply ice directly to the skin because it can often cause ice burn.

This allows you to get back to exercise earlier, and ideally with an increased range of motion in the joint.

You can use the RE3 Ice Compression Pack for 15 to 20 minutes at a time (or as prescribed by your health care professional) post-surgery.

Exercise: it is incredibly important to be doing exercises to increase strength and flexibility around the knee joint to get the full benefit of your procedure.
The RE3 Ice Compression Pack is designed to help you with all three, and we've helped thousands of patients to manage pain & accelerate post-surgery recovery .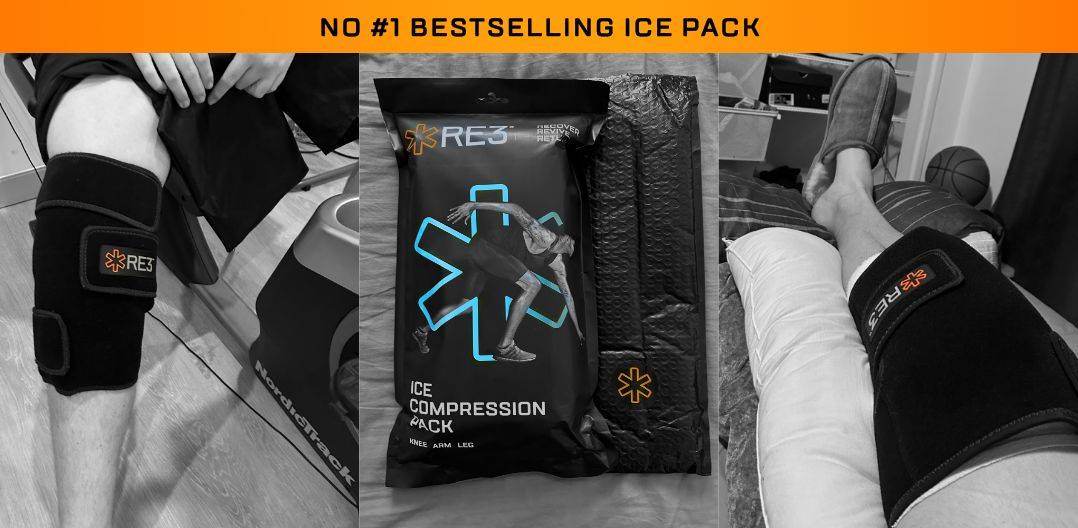 Bought one for my husband who had a knee replacement. It is now 5 days post-op and don't know how we could have kept the ice treatment going if it wasn't for the RE3. Comfortable and no wet mess any where. As a retired nurse I can't believe how easy it is.
Cath D. | Verified Buyer
★★★★★
Advanced Cryotherapy Technology: The Science Behind Why Colder Is Better
The RE3 Ice Compression Pack uses advanced cryotherapy technology, a technique used by professional athletes and coaches for decades. When the temperature of our body's tissue is kept at around 10 degrees Celsius, there is an immediate reduction in oxygen flow, inflammation, muscle spasm, and pain.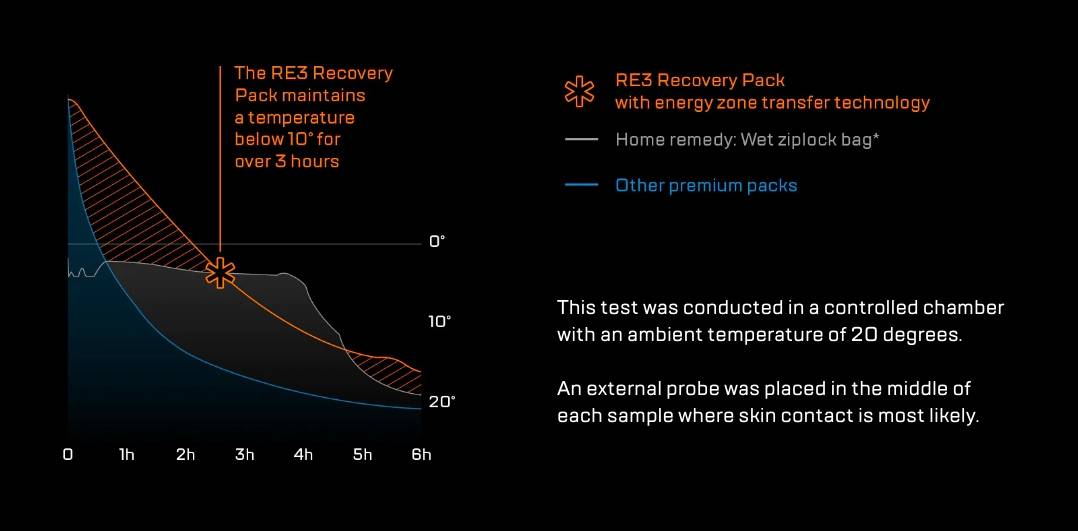 While common gel packs may provide some level of comfort and relief, most will not reduce the temperature of the skin to below 13 degrees.
Other packs using ice cannot be attached to the body in a way that is clinically effective – The RE3 Ice Compression Pack is designed to not only hold enough energy to be clinically effective but also offer comfort and mobility. It just makes icing effortless.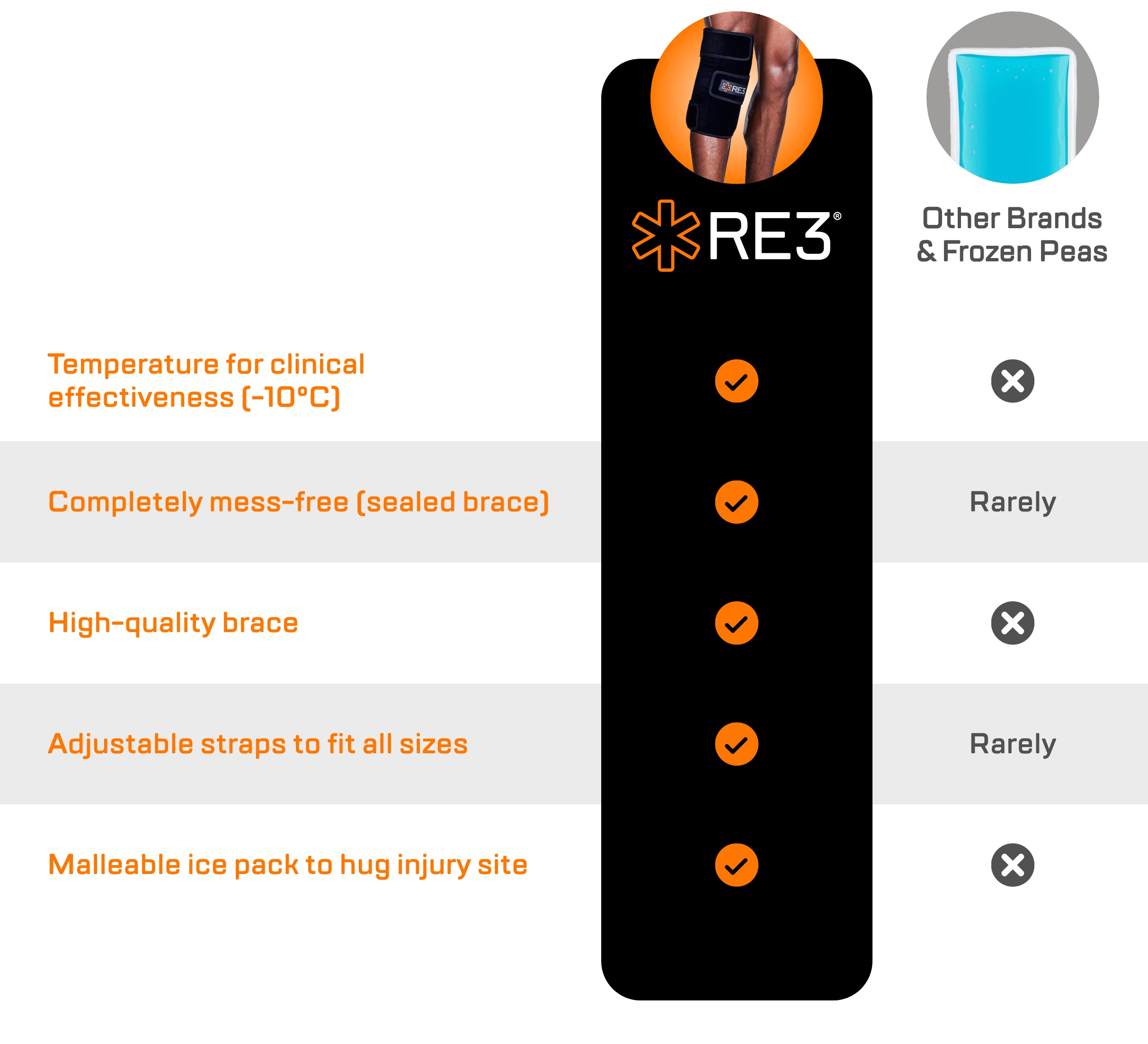 No Mess & Pure Cold Recovery For Hours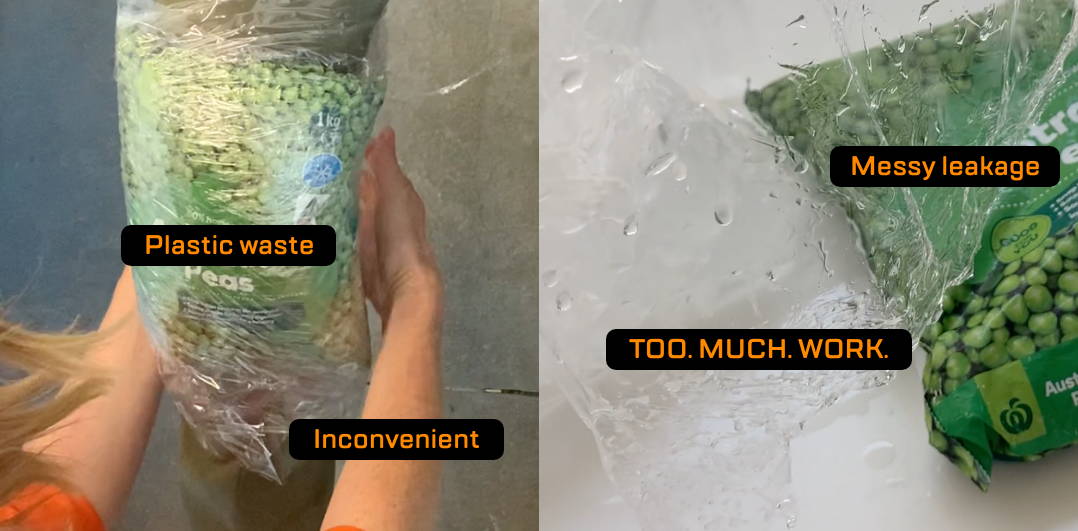 Unlike frozen peas packs or other ice packs on the market that will leak easily and leave your floor with puddles of water to clean, the RE3 will stay cold for hours before needing to be replaced.
The Ice Core Blankets are malleable even straight out of the freezer so they are perfect to mold around the surgical site. There is also an option to purchase extra ice core blankets or simply purchase the Surgical Value Pack (comes with 2 x Ice Core Blankets) for optimal rotation while icing.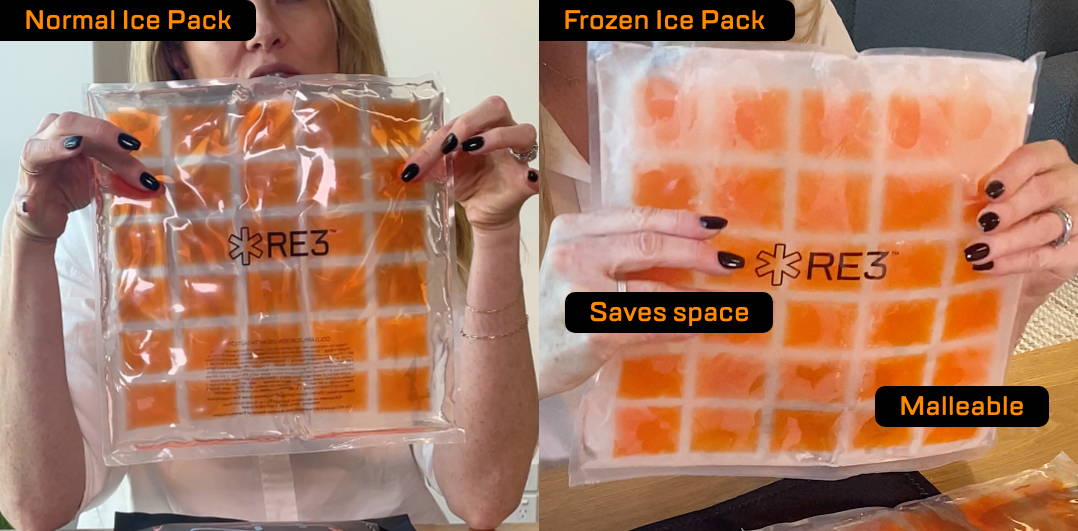 Designed To Enhance Mobility During Recovery
The product has been thoughtfully designed to take patients' specific needs into consideration.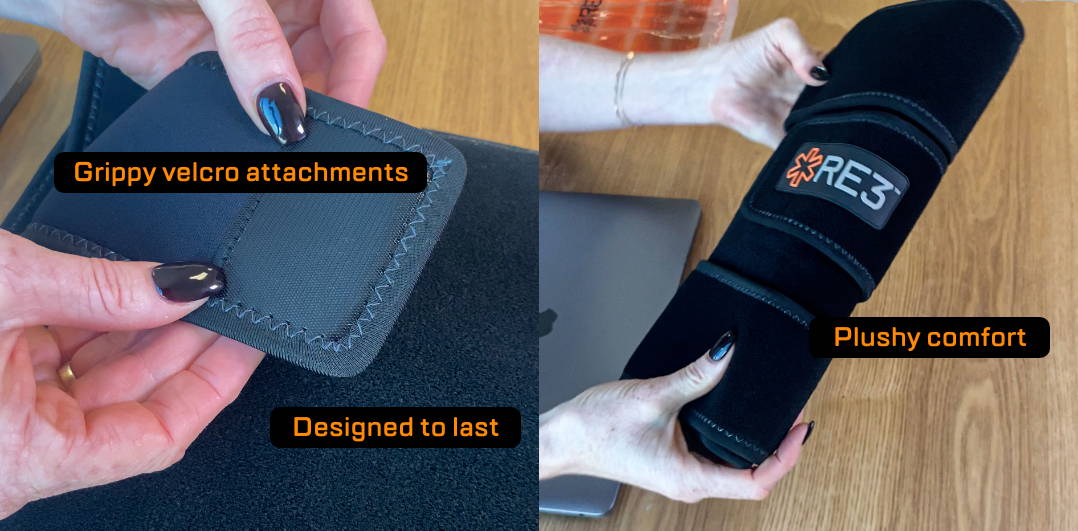 The neoprene brace is made of a premium soft fabrication to maximize comfort.

The low profile velcro attachments

are designed to hold your brace in position for optimal mobility.

The travel case

is waterproof and lightweight for easy transportation.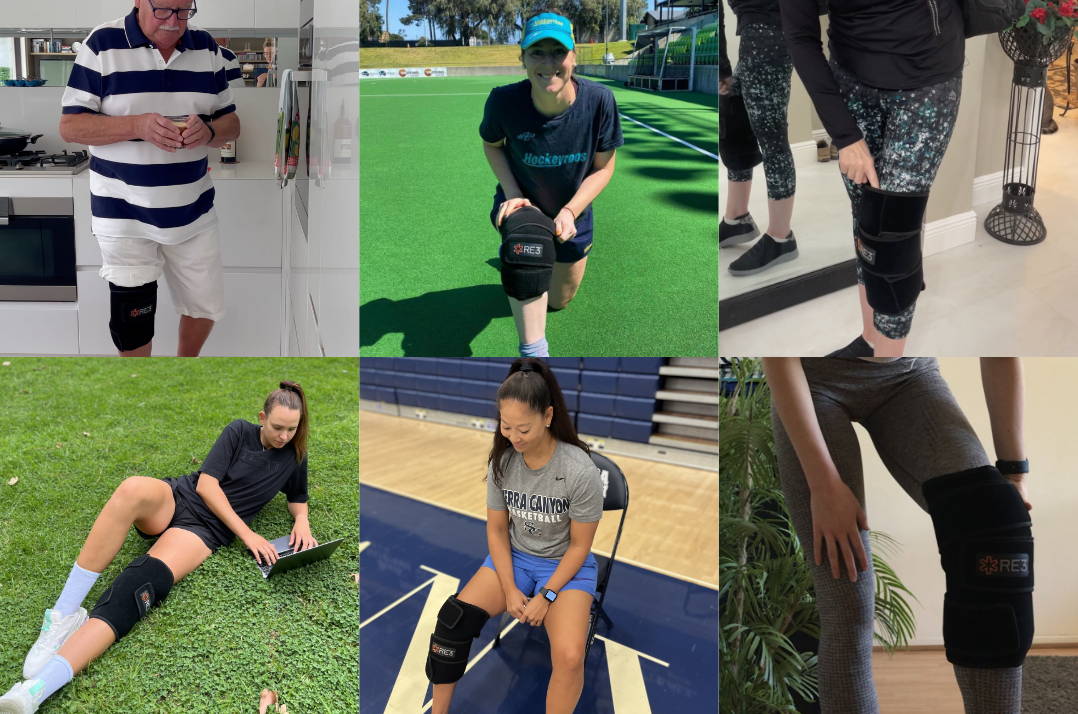 Backed By Thousands of Happy Customers
The RE3 Compression Pack has been used by orthopaedic surgeons and physiotherapists to help patients recover from surgery. It is highly recommended for its effectiveness in helping you get back on your feet again!